Native plants feed bird species either directly with fruits and seeds, or indirectly by supporting the native insects birds can eat.
About "Bringing Nature Home" | Native Plant Sales | Maine Native Plant Finder | Demonstration Plantings | News 
Native Plant Sales: The 2023 Native Plants Sale and Festival took place on June 17, 2023, 9 am to 3 pm.   
Visit our online portal here (shop.mainenativeplants.org) for information about online sales with in-person pickups at Gilsland Farm (Falmouth) and Fields Pond (Holden). 
Maine Native Plant Finder: Use our Maine Native Plant Finder to find the native plants best suited for specific sites, that provide the greatest ecological function and benefit, and will complement your landscape design.
About Bringing Nature Home: As our population grows, wild landscapes are increasingly replaced with suburban backyards, grass lawns punctuated with non-native perennials and shrubs that support very few species of wildlife. In fact, the United States has planted over 62,500 square miles – some 40 million acres – of lawn! Even a modest increase in the native plant cover on suburban properties greatly increases the diversity of insects, birds, and other animals that use the landscape.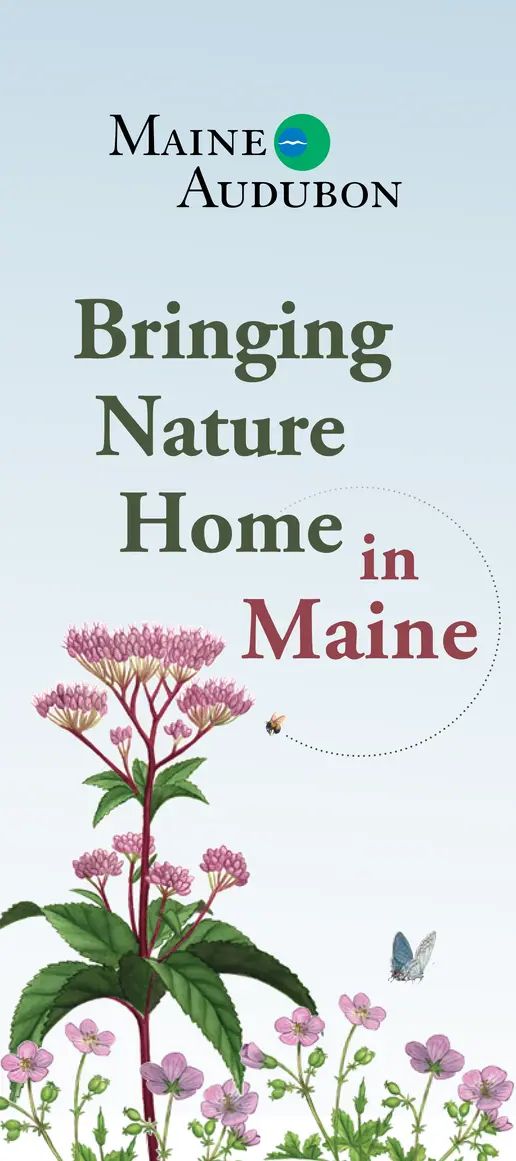 For several years, Maine Audubon has been expanding programming around the critical value of wildlife-friendly plants to our state. At its heart, this project is about restoring and rebuilding Maine's natural biodiversity by planting the native wildflowers, shrubs, and trees that support the widest array of wildlife. It culminates each spring with our annual Native Plants Sale & Festival at Gilsland Farm, featuring thousands of native plants we sourced ourselves and which are perfect for your yards and gardens.
The concept for "Bringing Nature Home" comes from the book of that title by Dr. Doug Tallamy, an entomologist at the University of Delaware. Dr. Tallamy studies the number of insects attracted by various plants and trees, particularly those common in urban and suburban landscapes. He then connects that research to the birds and other wildlife that depend on the abundance and diversity of those insects to feed their young.
Wherever you are in Maine, the smallest planting and maintenance choices you make can have a profound impact on your local food web. In addition to our yards and local green spaces becoming opportunities to recruit and train new naturalists, they become refuges for species of plants and trees facing real challenges across broader landscapes. "Bringing Nature Home" has also been a rich opportunity for Maine Audubon to engage with key partners, including with the innovative Wild Seed Project.
Through this initiative, Maine Audubon has worked with preschool children and their families to learn about pollinators and plant milkweed at Gilsland Farm; we've taught students at elementary schools in Portland to propagate seeds, and about insects and their relationship to plants and birds; we've led middle school students on projects investigating Maine birds' food webs and redesigning the landscaping at their school. Dozens of adults have participated in our native plant walks and seed sowing workshops, and we've met hundreds more through our outreach to garden clubs and nurseries. We are also working closely with several land trusts, city officials, and retirement communities to engage their constituents in restoring and monitoring native plants and habitat.
Watch: Doug Tallamy presented on "Bringing Nature Home" at this 2016 Maine Audubon Speaker Series event:
This work has been made possible by the generous support of Jim & Ann Hancock. Thanks also to Doug Tallamy for his inspiration and collaboration.
Maine Audubon works with organizations, communities, and developments to restore habitat and to plant native plants. Learn more and visit one near you!
Events: Find a program about native plants
Latest News about "Bringing Nature Home"